| | |
| --- | --- |
| Origin | Korea |
| Brand Name | pyeonanta |
Hangover cure PYEONANTA is
made of the extracts of tea, seeds of grape fruit etc., which are the natural resources being fermented. It drastically reduces the hangover symptoms like headache, thirst, drowsiness, feeling of helpessness, concentration proble.
The main cause of hangover is
Acetaldehyde
If you drink alcohol so much, the integration of acetaldehyde takes much time. The residual acetaldehyde in the liver is the reason for hangover like headache, thirst, feeling of helplessness.
The absorbed alcohol into our body goes through the following metabolic procedure
Hangover cure, PYEONANTA
To cure the hangover, the concentration of blood alcohol and acetaldehyde must be lowered.
If you add the PYEONANTA in your alcoholic beverage, the ADH and ALDH are activated. then the main cause of hangover. acetaldehyde is metabolized fast into acetic acid, water, CO2, Therefore the next day morning hangover will be significantly reduced.
The clinical test on the effect of PYEONANTA
(Professor Baek, the head of the gastrointestinal center in the Bundang Jaesaeng hospital)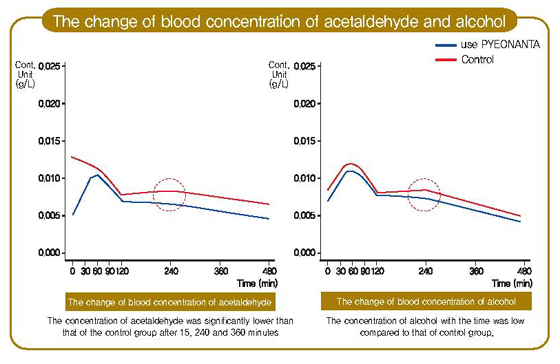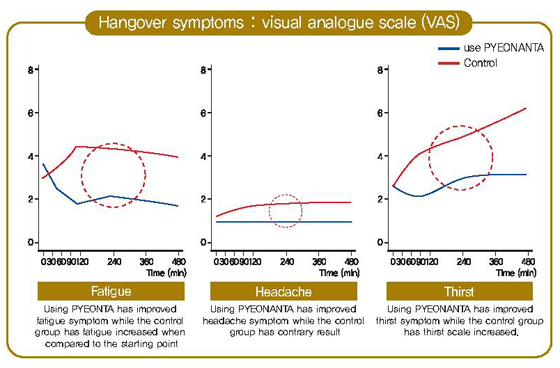 PYERONANTA Show me your Comfortless
Teste and flavor will not be changed with PYEONANTA
There is no thirst and headache as of overdinking
This is a so natural and safe food obtained through fermentation of the extracts of tea and seed of grape fruit
You can be drunken but will have no hangover
PYEONANTA is recommended for
Professionals who is working with drinking business
Business me and women who have many drinking parties
Women and persons who are weak to alcohol
Persons who have serious hangover symptoms or stomach problems in the morning after drinking